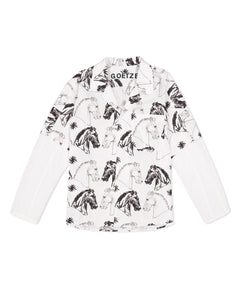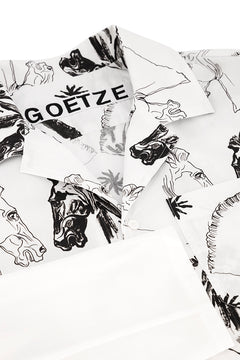 Black/White Larry Horse Print Shirt
GOETZE fuses formal precedents of menswear with everyday aspects of contemporary masculinity, taking inspiration from athletic apparel and casual wear as well as classic formalities.
LARRY is a classic fit, short-sleeved bowling collar shirt featuring the signature hybrid sleeve construction creating a rounded yet distinct shoulder. The double sleeve gives the impression of two shirts being worn on top of one another. The crisp white cotton is contrasted with the iconic horse print in black, which has been designed in collaboration with Tony Stella.
Regular Fit | Women: One Size Down / Men: True To Size  
100% Cotton | Dry Clean Only.